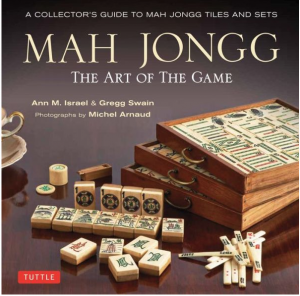 Mah Jongg: The Art of the Game is the first book to fully capture the story of the exotic and exciting game of Mah Jongg, offering an intimate look at the history of the game as well as the visual beauty of the tiles.
When authors Ann Israel and Gregg Swain began playing Mah Jongg, they were unaware of the vintage collections that existed not only in the United States but also in places as far ranging as Africa to New Zealand. Slowly, they started to collect their own Mah Jongg sets and as their collections grew, so did their appreciation of the history of, and interest in, the game.
Finding few references, Israel and Swain set out to create a book that chronicles the early beginnings of the game and documents Mah Jongg sets and accoutrements from the most basic, made simply of paper, to some of the most opulent sets made of precious materials. Recognized and respected scholars and game experts have collaborated with Israel and Swain, contributing important chapters on the game's history and its pieces. Lastly, great collectors from around the globe have shared their incredible sets and memories for the first time in one book for everyone to enjoy.
With hundreds of beautiful new images by renowned photographer, Michel Arnaud, and including historical documentation and ephemera, Mah Jongg: The Art & History of the Game fills the void between the past and today's game, providing vision, inspiration and resources. Anyone who has ever been intrigued by a Mah Jongg tile will find in these pages visually stunning photographs that will entice them into becoming an enthusiast of the timeless game of Mah Jongg.
Authors:
Ann Israel grew up in Detroit and now lives in New York City. She has been writing Advice for the Lawlorn, a weekly syndicated column for attorneys published by American Law Media since 1994.
Gregg Swain, a graduate of Smith College with a Major in Art History, grew up in New York City where she nurtured her love of art. She earned a Doctorate in Clinical Psychology. This is her first book.
Photographer:
Michel Arnaud's work has appeared in countless books and magazines.
Other contributors include:
Tom Sloper, Michael Stanwick, Katherine Hartman, Dee Gallo, Woody Swain, and Bill Price.
Reviews include:
Ruth Unger, President, National Mah Jongg League
"I thoroughly enjoyed this book. Whether used as a reference or a beautiful keepsake, it's a very worthy addition to the world of Mah Jongg…."
Lark Mason, renowned expert in Chinese Art and Antiquities:
"What a great book. Although scores of mahjong sets cross my path each year  through my auction house and while on summer tour for Antiques Roadshow, I have never delved deeply into the history and 'art' of the game. And, I am delighted I did so. The many international manufacturers, the cultural craze, and variations in decorative elements have all been pulled together by Ann Israel and Gregg Swain in a very readable and incredibly well-researched book, that not only is chock-full of useful information but laden with wonderful illustrations. Next time a set comes across my desk, I'll not only know more about it, but can refer the owner to the definitive source for all mahjong set knowledge. "
Elizabeth Stillinger, author and antiques expert:
"This handsome book is the first to give a history of the tiles used in the game of Mah Jongg. The concept of the game and the symbols on the tiles are explained, and then the wide variety of materials used in making the tiles is discussed and illustrated. Presented in brilliant color and beautifully designed, "Mah Jongg: The Art of the Game" would be a welcome addition to the bookshelf or coffee table of any art lover. For Mah Jongg players, it's a must!"
Jesse Kornbluth, editor, HeadButler.com:
My immigrant grandmother played Mah Jong. Because she believed "Mr. Ed" really was a talking horse — why else would he be on television? — I assumed everything she liked was beneath consideration. Now, thanks to Ann Israel and Gregg Swain, I know better: Mah Jong is not only to be played, it's even more an art to collect. "Mah Jong: The Art of the Game" could, all by itself, re-launch a renaissance in these beautiful tiles.
— Jesse Kornbluth, editor, HeadButler.com
Publication date November 18, 2014
http://www.barnesandnoble.com/w/mah-jongg-ann-israel/1118759459?ean=9784805313237
http://www.amazon.com/Mah-Jongg-Collectors-Guide-Tiles/dp/4805313234/ref=sr_1_1?ie=UTF8&qid=1403546838&sr=8-1&keywords=mah+jongg+the+art+of+the+game
On November 3rd, 2014 this book was ranked #1 by Amazon in Antique & Collectible, Porcelain & China
By Tom Sloper (湯姆 斯洛珀)
November 2, The Year Of The Horse 馬
Column #622
A beautiful new book is coming this month: "Mah Jongg, The Art Of The Game," by Ann M. Israel and Gregg Swain. The book gives a rare accurate accounting of the history of mah-jongg (thanks to Michael Stanwick and yours truly), and some gorgeous photographs of exquisite collectible mah-jongg sets, taken by Michel Arnaud.
Renowned mah-jongg historian and scholar Michael Stanwick wrote the text for the first chapter, "A Brief History of Mah Jongg." I wrote the text for the second chapter, "Mr. Babcock Invents Mah-Jongg™." I put together facts from an interview with Lisa Lethin (the granddaughter of Babcock's partner, Anton Lethin) on
mahjongmuseum.nl
, and facts from Philip Orbanes' book on the history of board games company Parker Brothers (
"The Game Makers"
), Milton C. Work's 1924 book
"Mah-Jongg Up-To-Date,"
and even patent filings from the nineteen twenties. My chapter thus puts the Babcock story together in a more complete way than has ever been seen in print before.
But enough about me, and my small part of the book. The photos are simply stunning. The authors contacted numerous collectors and obtained photos of some beautiful sets and amazing rare sets, including some historically significant sets that Michael Stanwick has described in his excellent scholarly pieces in the journal of the International Playing Card Society, "The Playing Card." There are also photos from the early days of mah-jongg. History and stories and spectacular imagery – what more could you want?
The book is hardcover, 8.5″x8.5″ (or if you prefer, 215x215mm). It's published by Tuttle Publishing, ISBN: 9784805313237. It's slated to be released on November 18 – just in time for Christmas! It would be a great gift for a mah-jongg enthusiast or collector.